I know I'm not on my own when I say that autumn is hands down my favourite 'fashion' season of the year. I love layering up, the injection of warmer colours and of course the re-insertion of boots into my wardrobe! So during my search for some boot newness I thpught I'd share with you some of my favourite finds!
As you guys already know my style is very much comfort-led so it's probably not surprising that my first 'boot' love is the Chelsea flat. I love a stylish, flat boot that I can literally wear everyday and walk for miles in if I so choose. Opting for a pair with some studding, buckles or embellishment also makes them the perfect transition piece from day to bar.
Office Ashes stud boots  £89 from House of Fraser
Burgundy Chelsea Boots £24.99 H&M
Next Tan Brogue Boots £55
Next Leopard Boots £32
My second favourite is a chunky heel ankle boot. For me these boots elevate the glam level but are still a comfortable option for day and night. The work equally well with turned-up mom jeans and a tee as they do with my favourite skater dress and tights. I actually got gifted the most gorgeous pair of navy velvet embroidered ankle boots from Donaghys Shoes Banbridge for a fashion event I hosted last week and I am IN LOVE. They are by Millie & Co and only £44.99!! You can see them on their website by clicking the photo below.
A few of my other favourites are: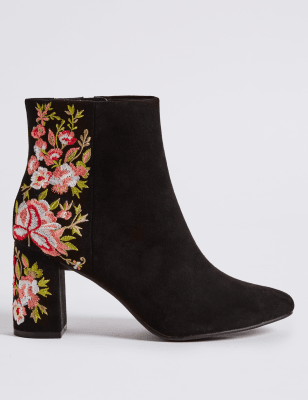 M&S £49.50
River Island £40
River Island £55
New Look Floral Sequins £34.99
New Look Sparkle Boots £29.99
ASOS Emsey red suede boot £65
Oasis £70
Finally the third pair of boots I just cannot resist is the thigh-highs. I love how they've battled their way back from a less favourable reputation to the forefront of the fashion scene. For me they are the epitome of super glam in the footwear world. Even when simply worn over your skinny jeans they just ooze sexiness and paired with a loose, over-sized jumper dress they are just next level. They are definitely a little more fashion-forward and for those of us not blessed with model legs and height finding the perfect pair can be a little more challenging but I do believe there's an option for all of us.
PrettyLittleThing £60
** The Practical Choice ** I own these New Look boots myself and they are thee most comfortable and versatile boot ever! I never have mine off! Perfect for over skinnies, or paired with a skirt and tee to take you easily from daywear to evening.
Slouch Style check boots by Kenzie on ASOS £65
Stradivarius over-the-knee velvet boots £49.99
New Look £44.99
ASOS Kingship wide-legged boots £50.00
River Island Lace-up boots £95
Pull and Bear Glitter Knee Boots £29.99
Enjoy your boot search guys,
Danielle xx